NEWS&BLOG
보더리스 하우스의 최신 뉴스, 블로그 갱신정보
Work in Japan! ◆BORDERLESS HOUSE Career Support Online Seminar◆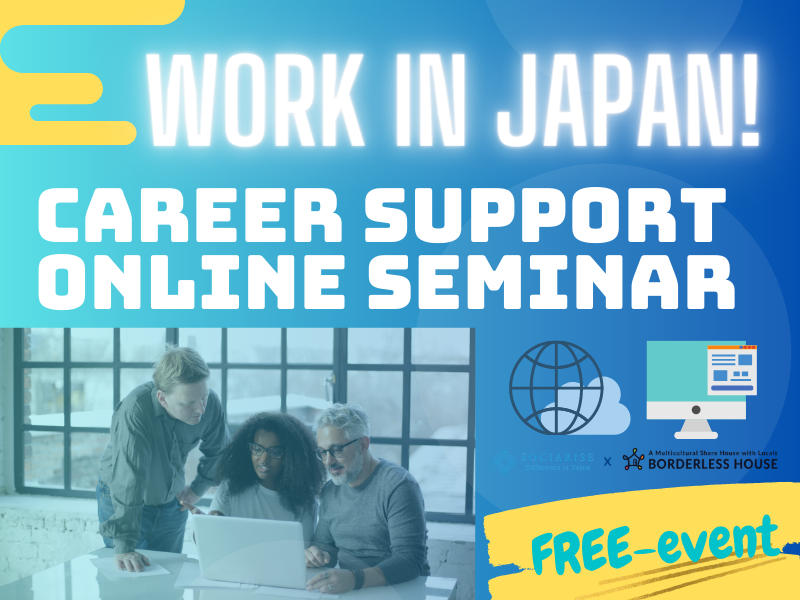 Hi everyone, this is Ting from Borderless House. Hope all is well with you!
If you are interested in reading this blog, you're probably curious about our topic  " working in Japan". Then, we would like to invite you and your friends to join our monthly online seminar, which is to help foreigners who have a dream to work in Japan, and we would like to make your dream come true!
※Non-Borderless House tenants are welcome to participate too!
From this August,
Borderless House
has started【Ē・SHOKU・JŪ 】Housing & Career Support Program with a company that provides job-hunting support for foreigners living in Japan called
Sociarise
.
One of the career support services of this program is
【Monthly Career Support Seminar】
In this blog, I will give you more details of this seminar, so if you plan to work in Japan, or if you are looking for a better job opportunity in Japan, don't miss it!
Sociarise - Support for foreign human resources
One of the reasons that we have started our collaboration with Sociarise is that we have similar business concepts. The mission of Sociarise is to create opportunities for each individual that everyone can be proud, happy, and active, regardless of their country or culture.
Sociarise provides career support for the employment of foreign human resources, includes:
1. Consulting on recruitment and training for foreigners who live in Japan
2. Advice and support for business plans related to overseas and foreigners
3. Support for learning business Japanese, career education, and ability development support
4. Planning and counseling of employment support measures for international students
5. Seminars and training regarding foreign human resources
On top of that, their services are FREE of charge.
After you join the seminar, they will provide the latest job-hunting information for you and the career advisors from Sociarise will support you in finding or changing jobs in Japan.
What is the seminar about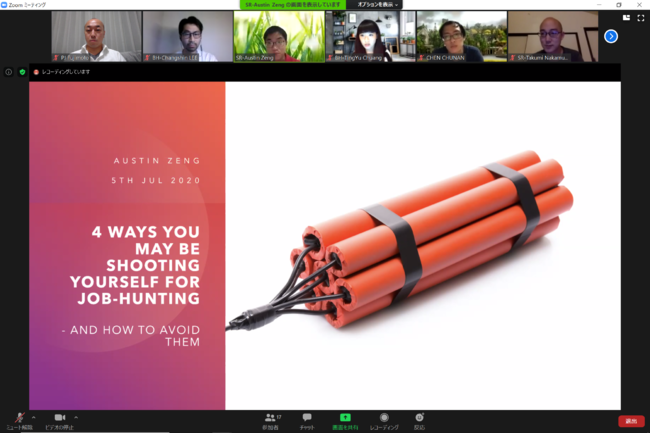 In this seminar, you will learn about the real situation of working in Japan as a foreigner, the job market in Japan, and how to find a job or change jobs in Japan, etc. Our guest speaker, CEO from Sociarise- Nakamura san and President of MEXT Scholars Association (Non-Profit which is the largest organization representing and assisting MEXT scholars and alumni in Japan) - Austin will share their knowledge and personal experiences with you.
At Q&A time, the career advisors will offer actual and prompt assistance to you! There will also be a private time for individual or group career consultation after the seminar conducted by professional career advisors from Sociarise.
If you have been struggling with job-searching alone by yourself, it's an amazing chance for you to get help and advice!
We have held seminars 2 times in August and September and received good feedbacks such as: "The Q&A was very useful, they answered all my questions, even questions of friends cases" or "expert opinion on my personal situation, easy to follow, good advice" etc.
There are some tenants are receiving job hunting support right after the seminar!
Moreover, it's a
FREE event
so don't miss it!
How to join the seminar
All you need to do just fill out the registration form down below!
◆BORDERLESS HOUSE Career Support Seminar◆
【Work in Japan! Consultation with professional career advisors for foreigners】


Date: 2020/10/3 Saturday
Time: 11:00~13:00 JST
Place: ZOOM (Online)
Special Guest: Takumi Nakamura *CEO of Sociarise co.,ltd
Language:English
Capacity :50 people
Fee:Free
※After receiving your application form, we will send you the ZOOM meeting link via email!
We look forward to your participation!