NEWS&BLOG
보더리스 하우스의 최신 뉴스, 블로그 갱신정보
"Cultural Exchange Every Day!?" A Revealing Glimpse into the Daily Life of an International Share House!
Hello! I'm Koko, an intern at BORDERLESS HOUSE. One of the strengths of BORDERLESS HOUSE, a multicultural share house, is that you can experience different cultures while staying in Japan! Because we are particular about the ratio of Japanese to non-Japanese tenants, you will definitely be able to enjoy language and cultural exchange with multicultural friends from all over the world.
HOWEVER, I'm sure many of you have questions like these:
"Does BORDERLESS HOUSE offer enough opportunities to get close to international housemates?"
"What is it like to live with both foreigners and local Japanese?"
And I'd like to say, YES.
So today, I want to write about "the daily life in BORDERLESS HOUSE" to prove it! In this article, I will introduce the usual daily life of each share house, as well as the lively house parties and amazing trips! I'm certain that this blog will give you a better understanding of the Borderless House Community, not only for Borderless House residents but also for our future tenants.
Read this article with imagining your bright future in BORDERLESS HOUSE with global housemates;))
Borderless House Exclusive Events - Highlights of April 2023!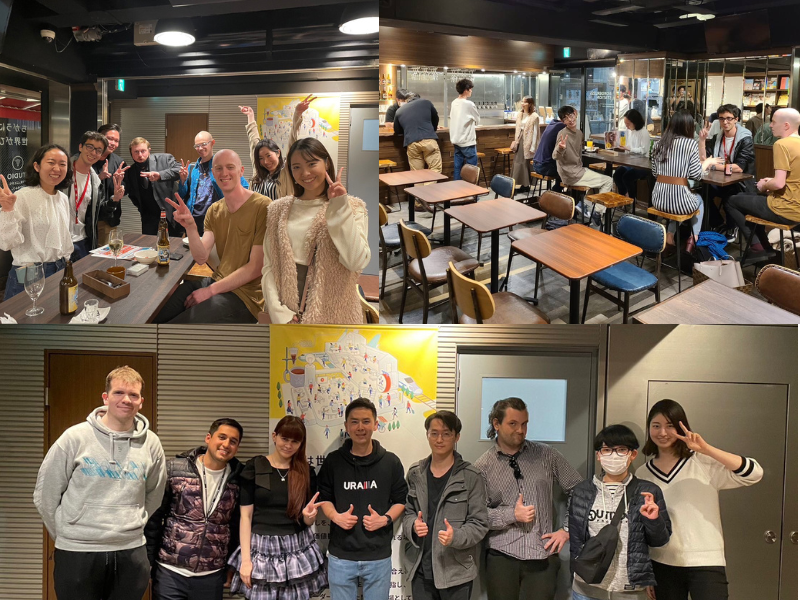 April is always an exciting and bustling month for us at BORDERLESS HOUSE, and this year was no exception. We were thrilled to welcome a diverse group of new tenants from various corners of the globe to Japan! In this blog post, let's take a moment to recap the vibrant events that took place in April and celebrate the beginning of their extraordinary journey with us!
BORDERLESS STATION
At BORDERLESS HOUSE, our commitment to fostering multicultural connections extends beyond our share houses. We are proud to introduce "Borderless Station" , a vibrant community space and restaurant located on the first floor of our office in Asakusabashi. Borderless Station offers a unique culinary experience, bringing together flavors from around the world, along with a range of multicultural events. In this blog post, I will highlight two exciting events that recently took place at Borderless Station!
Language Exchange
This event provides an opportunity for our tenants to learn and practice foreign languages while enjoying the company of friends from different cultural backgrounds. It's an event where language barriers fade away, and meaningful connections are formed.


BH Night
BH Night is another remarkable event that recently took place at Borderless Station, and it was a resounding success! We offered our tenants a chance to enjoy delectable food and drinks at discounted prices. The positive response to this event has encouraged us to make it a monthly gathering, open not only to our tenants but also to non-tenants. We invite everyone to join us and experience the joy of BH Night!
Celebrating New Connections and Cherished Memories Together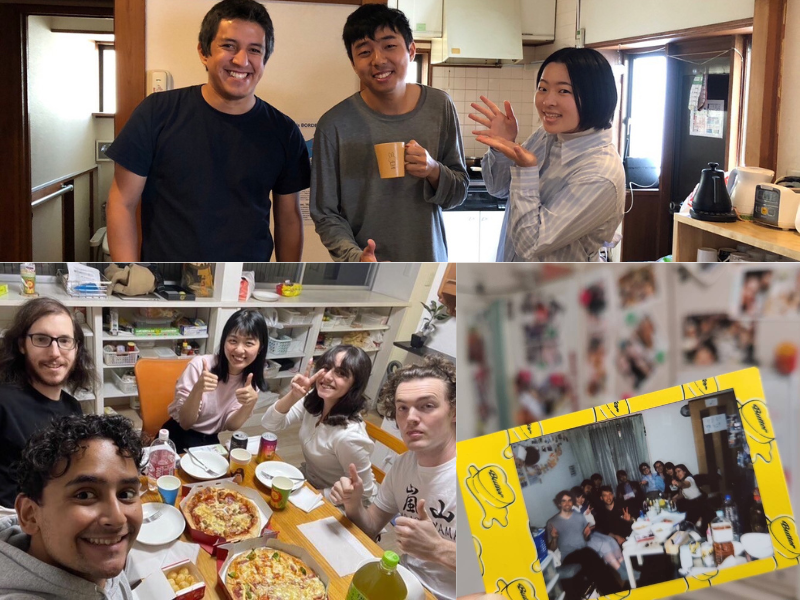 Welcome and Farewell Party
This April, we welcomed a whopping 80 new residents from all over the world. The "Welcome Party" is a big event to welcome new housemates! This event is a great way to build a new friendship.
As the saying goes, "All good things must come to an end," and so it was with April. Alongside the excitement of welcoming new members, we also faced the bittersweet task of bidding adieu to our beloved tenants. The "Farewell Party" was an occasion tinged with nostalgia and mixed emotions, and our tenants celebrated the beautiful memories they had shared.
Meeting the Best Housemates in Japan! The Everyday Life of one of our Share Houses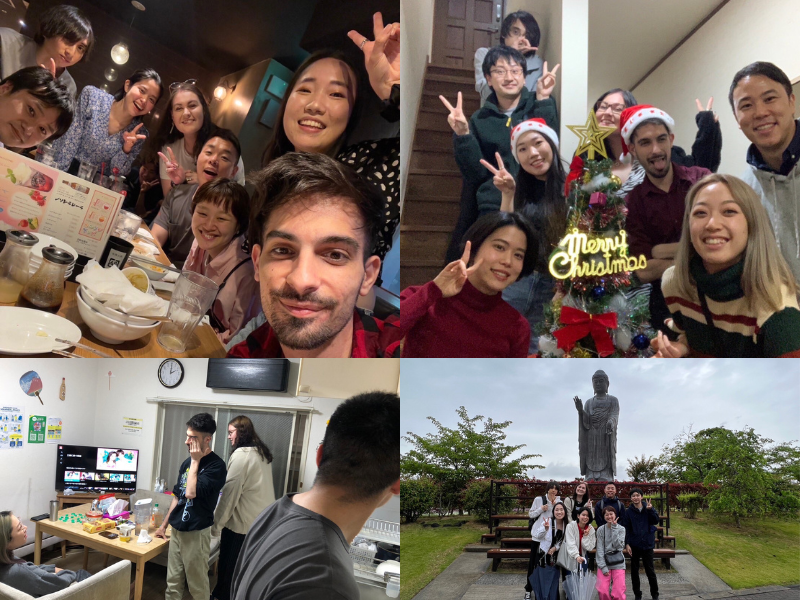 The tenants residing in this share house have formed strong bonds of friendship. They joyously marked the Christmas season by adorning a petite Christmas tree and donning Santa costumes! Additionally, they sometimes went out together for yakiniku - Japanese BBQ!
Sometimes, the tenants have trips together. This photo captures a moment from their visit to Ibaraki, which is the hometown of one of the tenants. Moreover, during the "Golden Week" holiday, they embarked on a collective trip to Hakone!
The living room, where everyone gathers, is a great hub for tenants to interact with their housemates. They can build a warm bond like a family there.
In fact, a resident of this share house expressed, "I am genuinely grateful to be a member of this community, and I am glad that I came to Japan." at her farewell party.
Utilizing Your Passions and Skills! "Tenants-Initiated Events"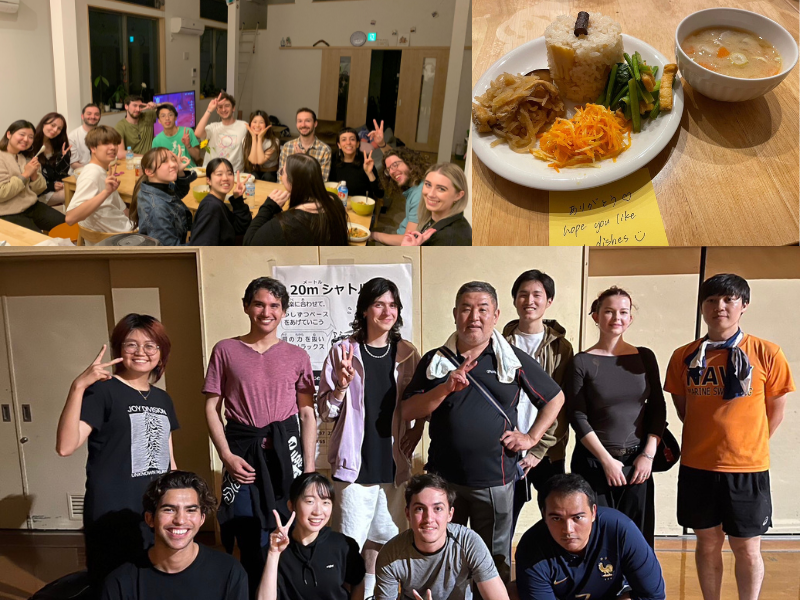 The Slow Food Diner at BORDERLESS HOUSE Kyoto-Nishijin
Our tenant Miko, who calls herself "sloth", started the slow-food diner! This event was planned for the purpose of spending more time with her housemates and encouraging them to try cooking or try Japanese cuisine.
She also has an interest in the slow food movement, local consumption, agricultural issues, and dieting. The healthy food prepared based on such knowledge gave her housemates a great opportunity to interact with others and think about "diet".
Badminton Event at BORDERLESS HOUSE Kyoto-Kinugasa
BORDERLESS HOUSE Kyoto-Kinugasa is a large and lively share house with 23 tenants from 12 different countries. This time, I want to introduce its badminton event! Playing badminton in the spacious gymnasium looks a lot of fun:) Enjoying sports together with your house mates is sure to bring you closer together!
Do You Know the Unique Party that Showcases Japan's Charm!? "Everyday Life at BORDERLESS HOUSE in Kyoto"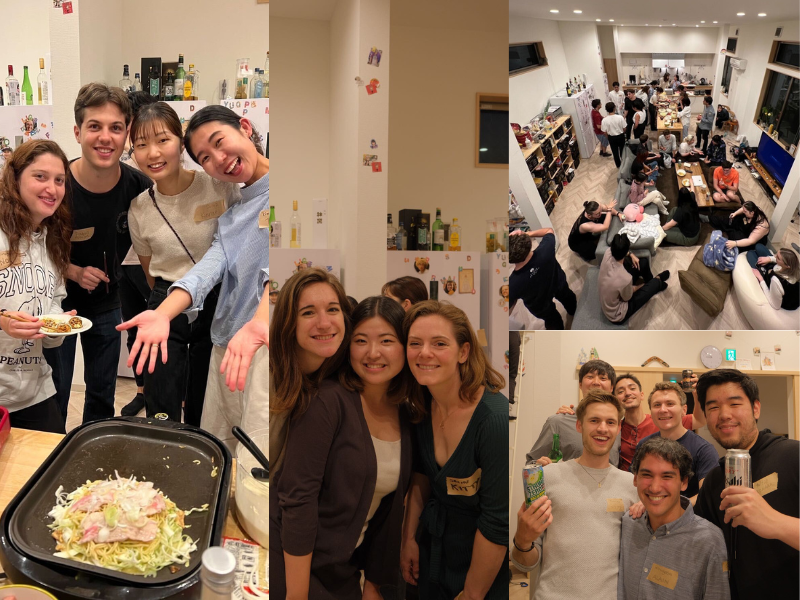 The last part of this blog post is about the enchanting daily life at our three share houses located in the picturesque Kansai area: BORDERLESS HOUSE Kyoto-Nishijin, Kyoto-Kinugasa, and Kyoto-Saiin2!
Takoyaki and Okonomiyaki Party at Kyoto-Nishijin & Kyoto-Kinugasa Share Houses
"Takoyaki and Okonomiyaki Party" is one of the popular events among BORDERLESS HOUSE tenants! Gathering around the hotplate, tenants experienced the unique food culture of Japan. With their favorite drinks in hand, everyone enjoyed good conversation and food.
As you can see from this photo, it turned out to be a very large-scale and lively party. The spacious living room of BORDERLESS HOUSE Kyoto-Nishijin, which is a large-scale share house, was filled with participants! It was a great opportunity for tenants to meet new people and share a good time.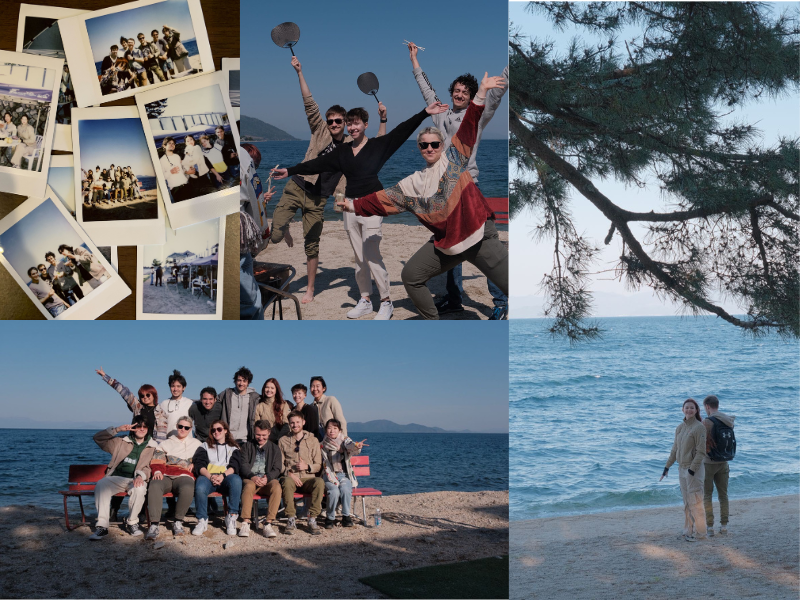 BBQ at Lake Biwa - BORDERLESS HOUSE Kyoto-Kinugasa
Under the refreshing blue sky, the tenants of BORDERLESS HOUSE Kyoto-Kinugasa enjoyed a barbecue! With the large Lake Biwa in the background, everyone is smiling for the camera, and you can tell how close they are.
The weather was perfect, and everyone's excitement was at its peak! The food grilled with the help of all the tenants was even more delicious than usual!
The instant photos capturing the memories of the barbecue will surely become cherished treasures.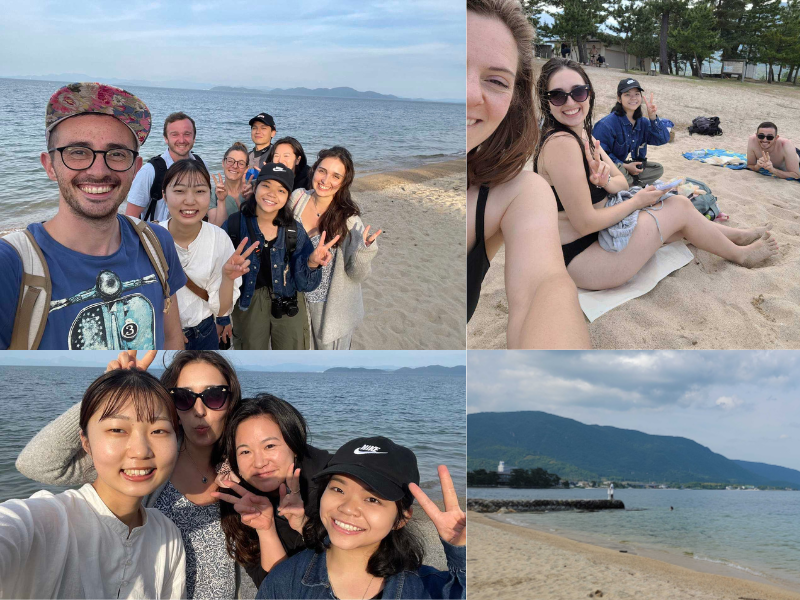 A Trip to Lake Biwa - BORDERLESS HOUSE Kyoto-Saiin2
The tenants of BORDERLESS HOUSE Kyoto-Saiin2 also visited Lake Biwa together! Weekends are the best time to get to know each other! Exploring nearby shops together or going sightseeing allows you to share a special experience with your housemates. The tenants relaxing on the sandy ground around the lake look as if they are at the beach! The beautiful scenery of the lake must have become a memorable experience for the tenants.
BORDERLESS HOUSE is a multicultural share house that allows you to experience a global everyday life alongside friends from all around the world.
If you're…
- Feeling anxious about living alone in Japan
- Looking to improve your Japanese skill on a daily basis
- Desire to connect with people worldwide in a "real" way and meet a new version of yourself
BORDERLESS HOUSE is the perfect fit for you. Join our community and discover new encounters that will lead to a new you!

Check the availability of rooms right now by clicking the link below!
Share Houses in Tokyo
Share Houses in Kansai


Furthermore, we regularly post updates about daily life at BORDERLESS HOUSE on Instagram. Please follow us to stay connected:)
Borderless House Official Account [English Version] (@borderlesshouse.jp)
Borderless House Official Account [Japanese Version](@borderless_house_jp)
Borderless Station (@borderlessstation)