NEWS&BLOG
보더리스 하우스의 최신 뉴스, 블로그 갱신정보
【Moving • Disposal Service in Japan】Simple and convenient! Make your next move to share house as smooth as possible!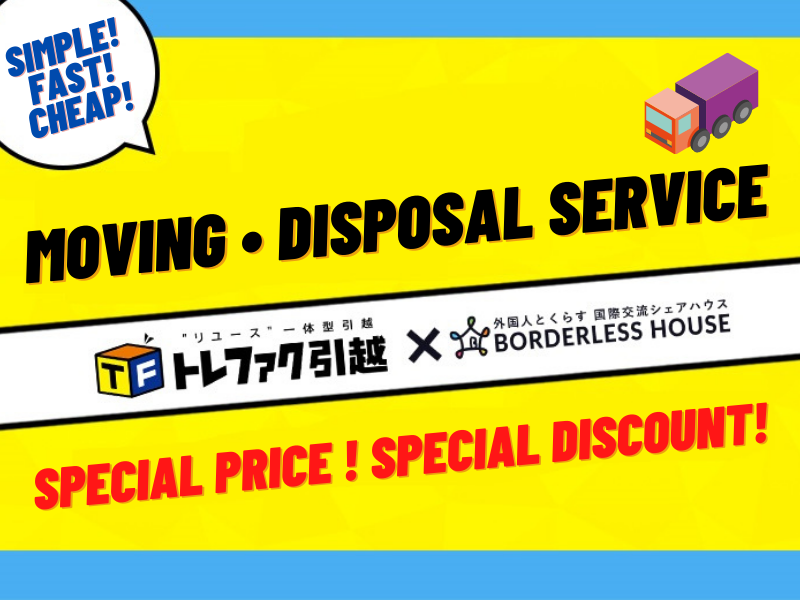 Hello! This is BORDERLESS HOUSE!
Are you looking for more encounters with people and planning to move into a share house from your own apartment? Are you relocating to Tokyo from other cities in Japan? If so, you might face some problems like how to move all your belongings and what to do with unnecessary items and furniture, etc.

Don't worry!! Let us put your worries to rest!

Here is a moving service to assist in helping you relocate your belongings to your new home, moreover, this company would also buy your old furniture appliances from you!

Let's check this new service out!
We are offering Moving & Disposal Service!!

BORDERLESS HOUSE is now cooperating with a moving company called「Treasure Factory Co.」and we are starting 「Moving & Disposal Service」for the people who will be moving into BORDERLESS HOUSE from anywhere in Japan!
※Website: トレファク引越
If you are introduced by BORDERLESS HOUSE,
the price of selling items will be「10% higher than the original price!!!」
You can also get a 「20% discount from the original price 」for the moving fee!
Since it's fully furnished at BORDERLESS HOUSE, your old furniture and appliances will no longer be needed if you move into a share house. You can sell them and just bring a suitcase then easily dive into the new world of international exchange sharehouse!
The moving cost will be less as you can sell unnecessary items.
You may even make some money or without paying any moving fee!
HOW TO APPLY
Simple Processes!!
1:First, go to the website of トレファク引越  and click「無料の見積もり依頼」(Free Inquiry) to fill out the required information.
2:Please write down「BORDERLESS HOUSE(Tokyo)」or「BORDERLESS HOUSE(Kansai)」for 「ご紹介元」(Introduced by)。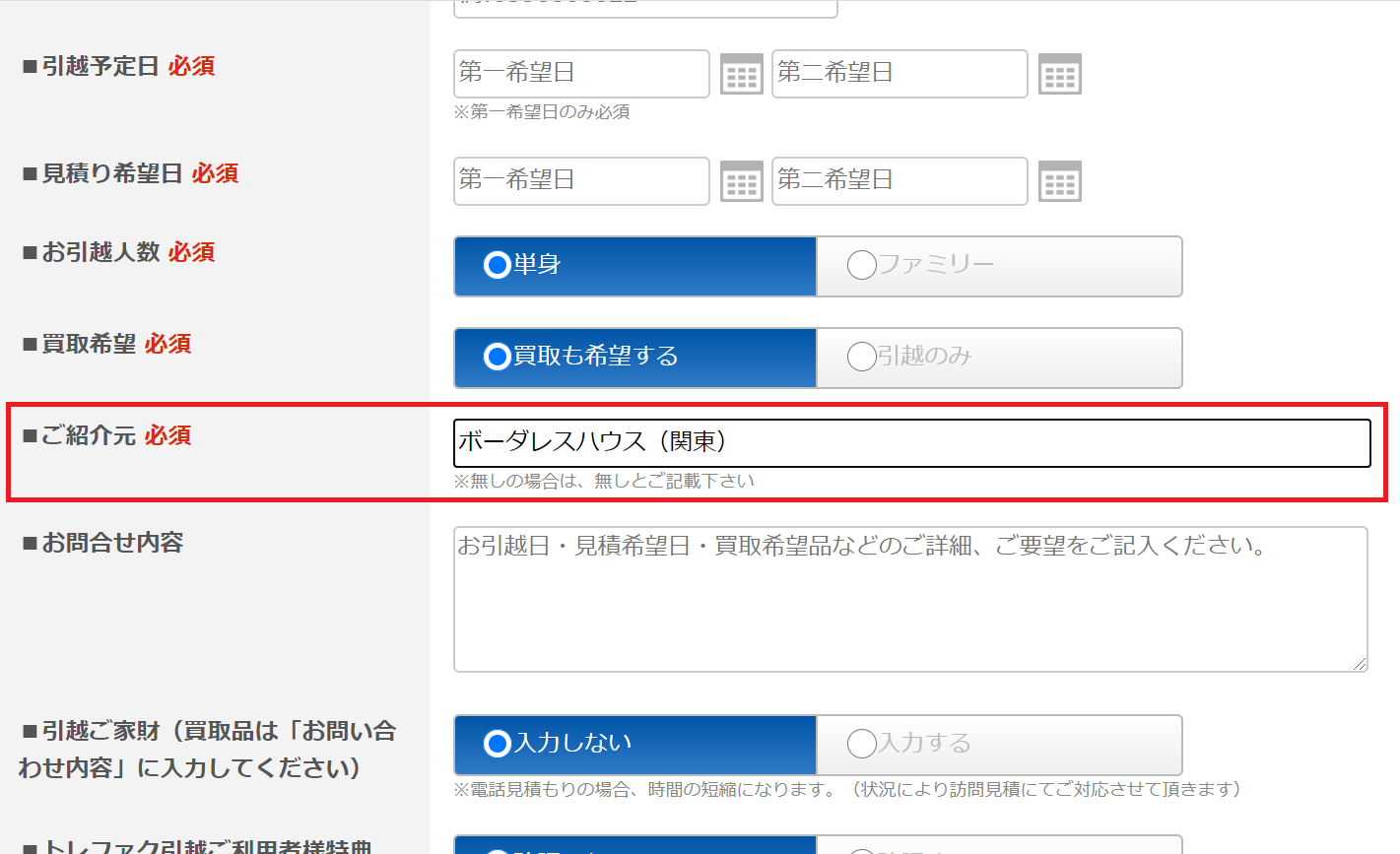 3:Then, the staff from トレファク引越 will visit your current living place to give you a quote.
4:On your move-in day to BORDERLESS HOUSE, they will help your move and disposal
5:Receive your belongings at the share house
That's all!!
トレファク引越 will help you moving all of your personal belongings, including clothes or futon!
~Please Note~
1:If you didn't write「BORDERLESS HOUSE(Tokyo)」or「BORDERLESS HOUSE(Kansai)」for「ご紹介元」(Introduced by), you might not be able to get the discount.
2:There's a possibility that you'll need to pay for the disposal of non-recyclable furniture.
3:Large-sized furniture, such as television or refrigerator is not allowed to bring to BORDERLESS HOUSE.
For details, please check the「よくある質問」(FAQ) on the website of トレファク引越 *Japanese Language only
You can spend way less money than you thought of moving into a share house!!
★Feel free to EMAIL us if you have any questions★
【Tokyo】 info@borderless-house.com
【Kansai】 info-osaka@borderless-house.com
★Check our Share Houses in Japan★
➤Share House in Tokyo

➤Share House in Osaka • Kyoto • Kobe