NEWS&BLOG
보더리스 하우스의 최신 뉴스, 블로그 갱신정보
Making friends from all around world even in this pandemic situation!? Borderless House's original program makes it possible!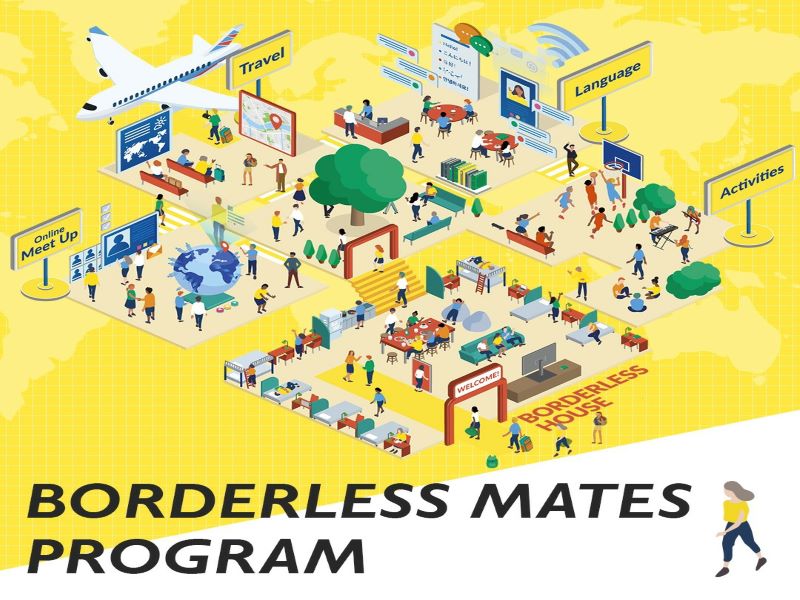 Hello! This is Yuka from Borderless House!
The worldwide pandemic of coronavirus makes it difficult to travel abroad.
But, here is good news for those who feel the same way!
"I wanted to go travel around the world and interact with the local people ..."
"I wanted to go abroad and study a new language ..."

You can connect with people all over the world while staying at home!
Please let us introduce Borderless Mates Program in detail!
Four programs to choose according to your interests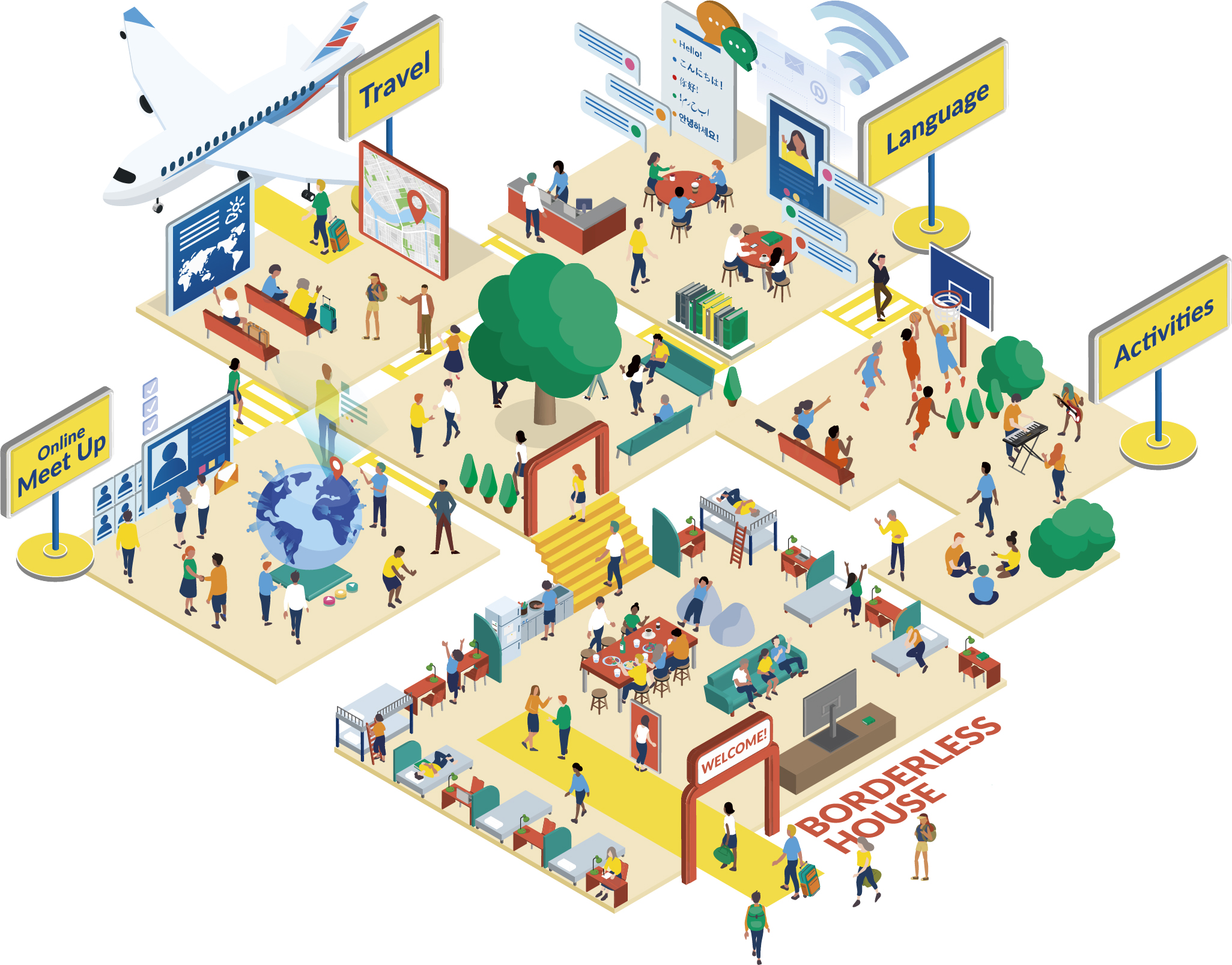 Currently, there are four main programs.
1, LANGUAGE EXCHANGE
You can talk to Borderless Mates all around the world! Multilingual exchange program
2, CLUB ACTIVITIES
A community program that brings people with common hobbies/interests together
3, BORDERLESS MATES LIBRARY
A program where you can meet a lot of different Borderless Mates
4, BORDERLESS TRAVEL
Travel Program where you can meet local Borderless Mates while traveling
Now let's see how you can enjoy each program! Mr. K, the current tenant who has participated in all programs, will help us here.
* K's profile *
University freshmen, majoring in International Relations.
Studying English every day aiming for the exchange program to Canada.
Moved to Borderless House in hopes of stimulating daily life (as university classes are all online) and improving his English skill
Snow in Egypt!? Motivating yourself to learn new languages with Language Exchange program!

First, there is Language Exchange program K has participated in many times!
There are two ways to participate.

1 on 1 Language Exchange
A program to enjoy one-on-one language exchange.
Not only English, we can match according to the language you want to learn, such as Korean, Chinese, Indonesian, etc.!
Click here for details on how to register
Group Language Exchange
A program for small groups (3-5 people) to enjoy conversations on common topics.
Topics change every month, such as travel, music, cooking, anime, art, and romance.
* Target languages: English and Japanese
* Date: Twice a month
Yuka: "How was it when you participated in each Language Exchange session?""
Mr. K: "1 on 1 was fun! We could choose a time convenient for each other, could get to know each other well, and it was easy to ask personal questions! When I struggled to find the right English words, my partner who speaks Japanese quite well could help, so I was glad I was able to ask questions. Next time, I want to do my best to say what I want to say!"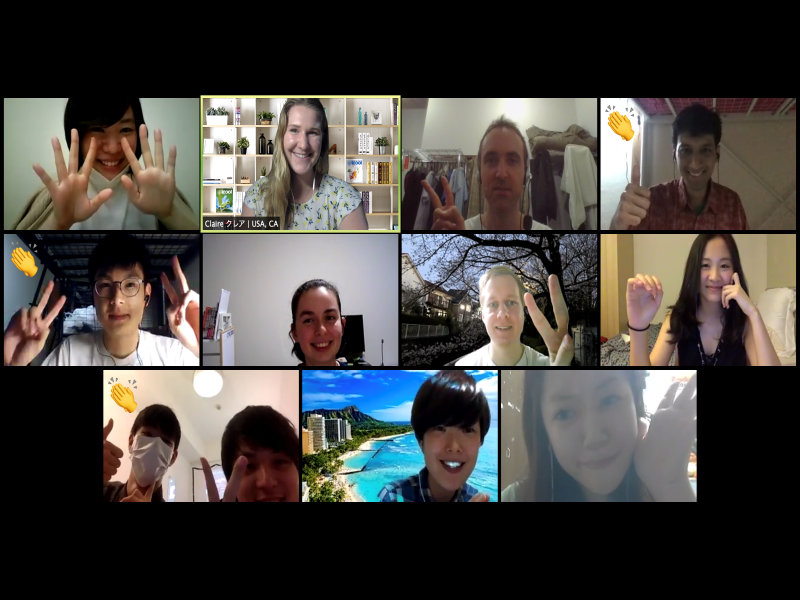 Photo: Group Language Exchange

Mr. K: "I felt nervous talking in the group, but the supporters encouraged me.
There were participants from Indonesia and Egypt who I had not met in my share house, and I was super excited to meet new people like them!
Especially, I had this strong image of Egypt as pyramids and deserts, but I was surprised to hear from the participant that there were places in Egypt famous for skiing! "
Yuka: "I was also very surprised to hear that! Thank you for letting us know in detail!"

As you can see from his story, Borderless House is very multinational.
What Language Exchange program can provide is not just more motivation to learn languages but also new multinational encounters that you have never had!
Playing games overcome language barrier! Join Club Activities Board Game!

Next, CLUB ACTIVITIES, a community program that gathers people with common hobbies and interests!

In addition to international cuisine program which offers cultural experiences and seasonal events organized by Borderless House, it is also possible for tenants to host events and club activities!

Yuka: "Mr. K, how was it when you participated in the online board game?"
Mr. K: "It was my first time, and the game was surprisingly exciting!
Each player logged in to the board game and connected to Zoom at the same time. It was fun because we could see each other's' reactions!
Everyone could enjoy a sense of unity even though we didn't exchange many words.
Yuka: "It is the unique point of CLUB ACTIVITIES that you can interact with lots of people regardless of their mother language!"

In addition to Board Game, CLUB ACTIVITIES will hold various activities such as Virtual Local Trip and Borderless Mates JOB BAR in the future.
If you have something you want to try, why don't you try it with Borderless Mates?
Receive unexpected offers! Chance to make friends from all over the world! Register for Borderless Mates Library!

Borderless Mates Library (BML) is a large library-like platform that makes each character of Borderless Mates look like a book.
It is a matching program that allows you to connect with Borderless Mates across countries just like you find a book that suits you.

Yuka: "Thank you for registering for BML! How was it?"
Mr. K: "I was surprised when I received an offer email from Mr. V, a resident of Taiwan who wanted to hear about the curriculum and situation of my faculty!
I don't speak Chinese, but fortunately, I was able to communicate in English, so I spoke with him on the videophone.
When I registered for BML, I didn't think I had special skills or experience, but I was very happy someone found it interesting like this time!
I haven't been to Taiwan yet and I don't know much about its culture. I would love to visit Taiwan when travel restrictions are eased! "
Yuka: "That sounds good! It seems that one of the fun parts about BML is broadening your world by receiving unexpected offers!
And there is good news for Mr. K! It is currently on hold, but I definitely recommend House Travel. Please use it when visiting Taiwan! It's free! "
Mr. K: "Thank you! I already checked the program even before moving in !! Please let me know as soon as the program starts again!"
FREE stay at Borderless House in Seoul, Taipei, Tokyo and Kansai for real!? BORDERLESS TRAVEL

House Travel (former Free House Exchange) which we just mentioned, is a program that allows current tenants to stay at another Borderless Houses abroad (Seoul, Taipei, Tokyo, Kansai) for free!
* Currently on hold and scheduled to restart in August 2021.

House Travel (former Free House Exchange)
Please take a look at the blog articles contributed by the tenants who have used this program.

You can stay in another Borderless House from the period of one week to a whole month.
Borderless Houses in Taipei, Seoul, and Japan all have locals, so you can get to know local shops, eat dinner and enjoy local life together, not just sightseeing!
Community platform made up of 10,000 people from over 50 different countries

Borderless House, as shown above, offers not only share houses but also international exchange experience programs!

There are approximately 8 to 20 housemates living together, but with Borderless House's community platform, the number of people you can meet climbs up to 10,000 from over 50 different countries!
"Not quite happy with University life, only attending online classes ..."
"I want new encounters, discoveries, and inspirations in my daily life, not just going back and forth between work and home ....!"

Why don't you move into Borderless House and participate in our Borderless Mates Program?

Click here to find how to participate in our Borderless Mates Program