NEWS&BLOG
보더리스 하우스의 최신 뉴스, 블로그 갱신정보
【Enjoy World Cuisine】Amazing Exotic Cambodian Food Experience!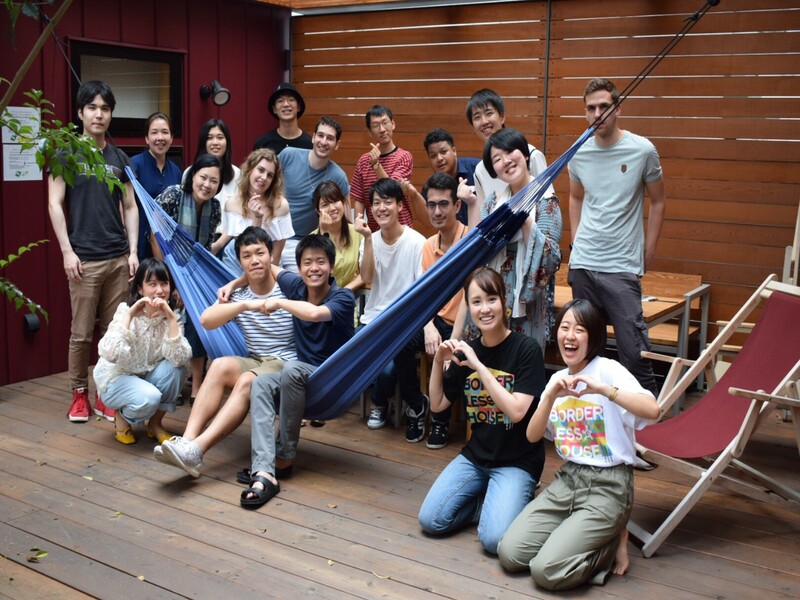 សួស្តីទីនោះ!Hello, this is Yuya!
『BORDERLESS DINERS~Experience international restaurants and travel around the world~』
It's been 6 months since we have started this program!
This is a hands-on program that you can enjoy the international exchange with
your five senses and enjoy different cuisines in restaurants or catering in Tokyo!
Let's Eat, Talk and Think together!
We are having Cambodian cuisine in July!
Let me introduce you the exotic BORDERLESS DINERS which served by Cambodian locals.
Delicious Cambodian cuisine cooked by Cambodian students, Seam and Srun!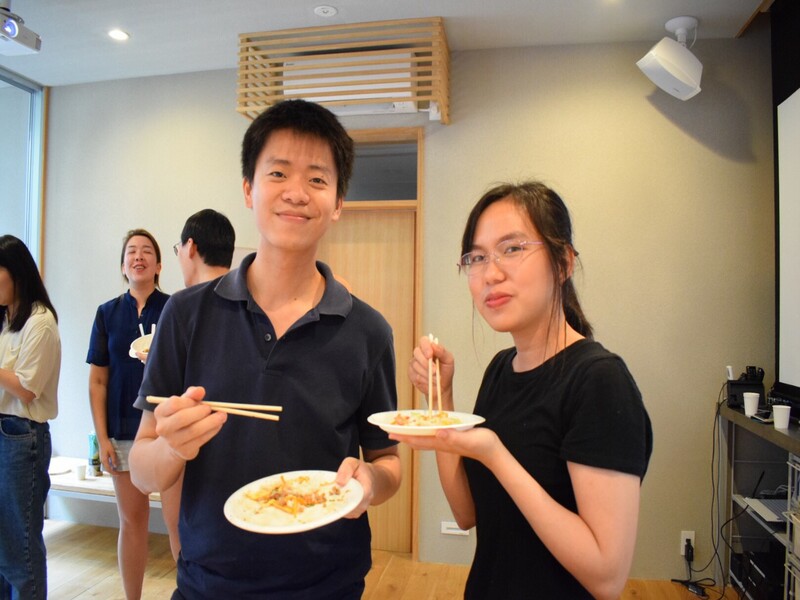 This time, the food is cooked by Vice President of the Cambodian International Students Association in Japan, Seam and the cooking assistant is Srun who is an interesting engineer from Cambodia! He also did a Cambodian presentation for us.
They hold some occasional events of Cambodia culture or Cambodian food to let more people know about this country from time to time.
Srun who was supposed to cook overslept on the day, luckily, all the participants helped us to start the journey to Cambodia by cooking together.
Exploring a taste for ethnic and exotic flavors!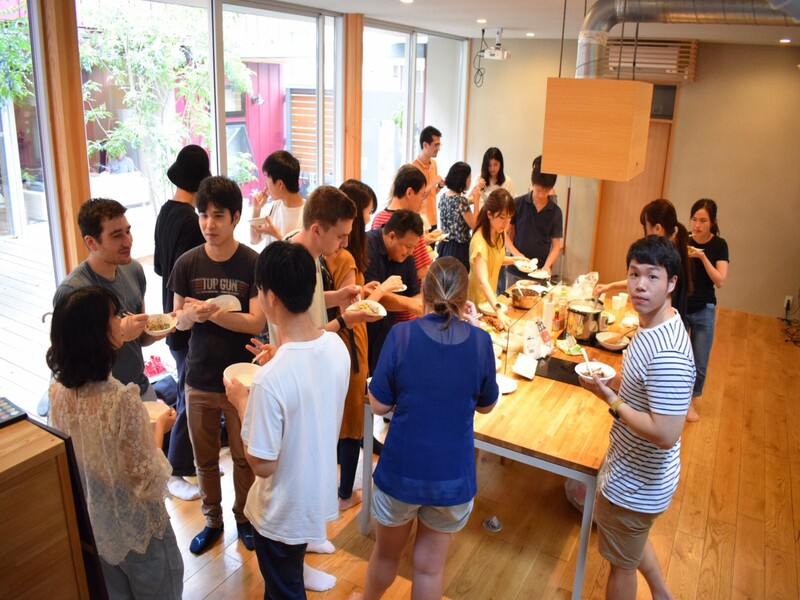 Cambodian food has evolved a unique cuisine based on the influence of French, Chinese, Thai and Vietnamese cuisine.
Speaking of ethnic cuisine, we tend to think it with pungent taste, but in Cambodian food culture, you can add any spices that you like, so it's not spicy at all!
Cambodian food is highly recommended for people who wants to try some ethnic food for the first time, as they usually don't put coriander in it and it's very easy to get used to the taste.
Having delicious breakfast for the morning! A traditional breakfast with a lot of meat!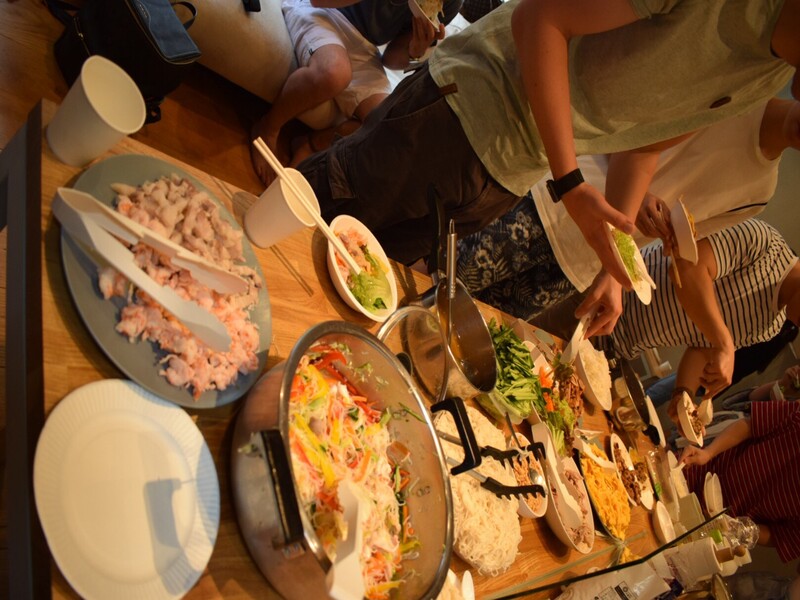 Speaking of Cambodian cuisine, pork rice bowl (បាយសាច់ជ្រូក) is absolutely the one! which is also the most popular Cambodian breakfast.
Seam told us that this is a Cambodian food that every Cambodian must eat at least once in their lifetime.
The pork is cooked with fish sauce and sugar. It's delicious to eat it with marinaded veggies.
While enjoying the fantastic taste of Southeast Asian cuisine, let's also have some tasty fried eggs with ground pork sauce.
To start your day with good feelings by having fat pork and rice, it also makes you feel energetic! !
A mysterious drink with beans and jelly? ! Unique Tapioca milk!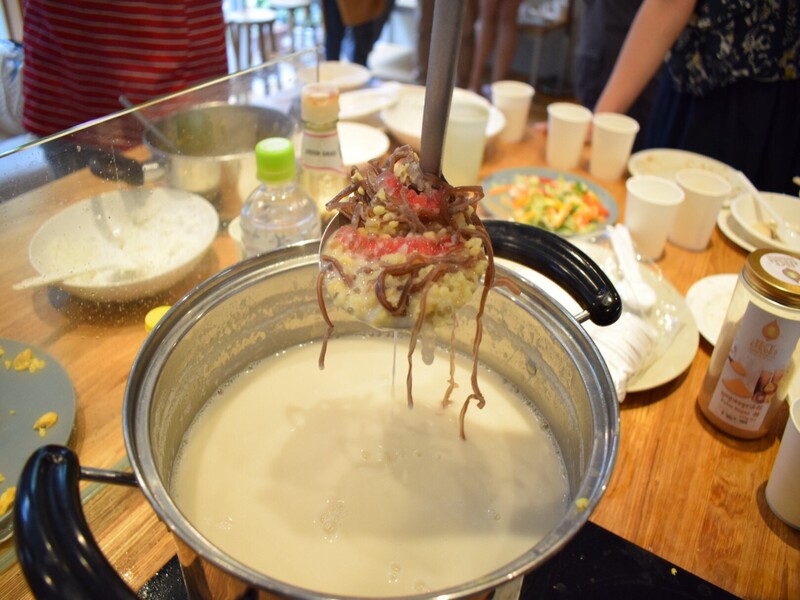 I'd like to introduce another Cambodian food to you, which is Tapioca Milk!
Tapioca is now a big hit in Japan, but Cambodian tapioca milk has a different taste.
First, even though it's tapioca milk, beans play the most important role.
This kind of beans is not common in Japan, however, it's a classic element for Southeast Asian dessert, It is a dessert with a lot of mung beans, jelly, etc. and boiled in coconut milk.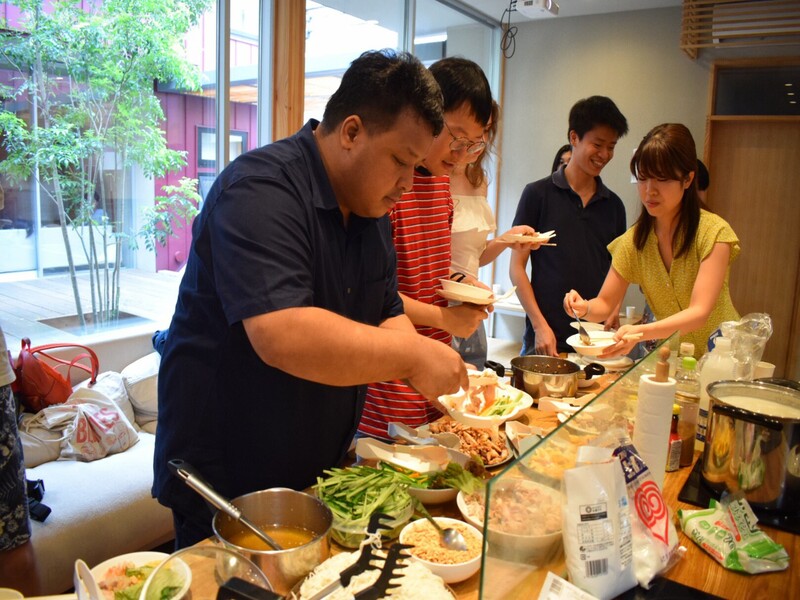 Even the participants who were hesitating to try it out at the beginning loved it.
Welcome to visit Cambodia! The weather is warm as well as the people

After enjoying delicious rice and desserts, Srun introduced Cambodia deeply to us.
Cambodia is known as the birthplace of Angkor Wat and pumpkin, but there were still many of us didn't know what this country is, so everyone was very curious about Srun 's story!
Extremely friendly and warm-hearted Cambodian people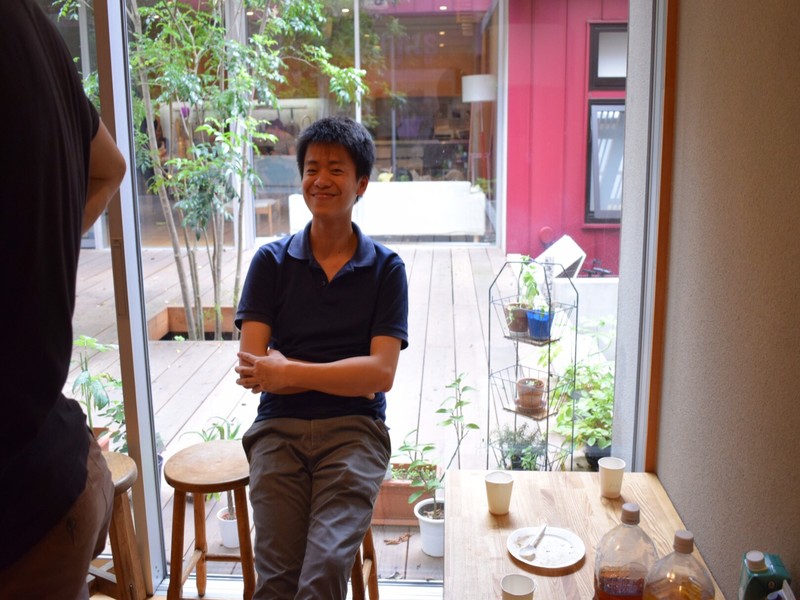 Then, Srun would like to talk about the personalities of Cambodian people!
"Cambodian are very kind to tourists. I think people are gentle everywhere in Southeast Asia, but I can say Cambodians are really friendly. So don't be afraid to visit Cambodia, since there is always someone would help you if there is any problem! Every Cambodian is just as kind as me!" Srun said.
All of the participants were wearing a big smile while listening to his introduction.
Even this is the first time to meet Seam and Srun, they were very kind and friendly,  also very easy to talk that made me feel that I have known them for a long time.
A small and historic town - Phnom Penh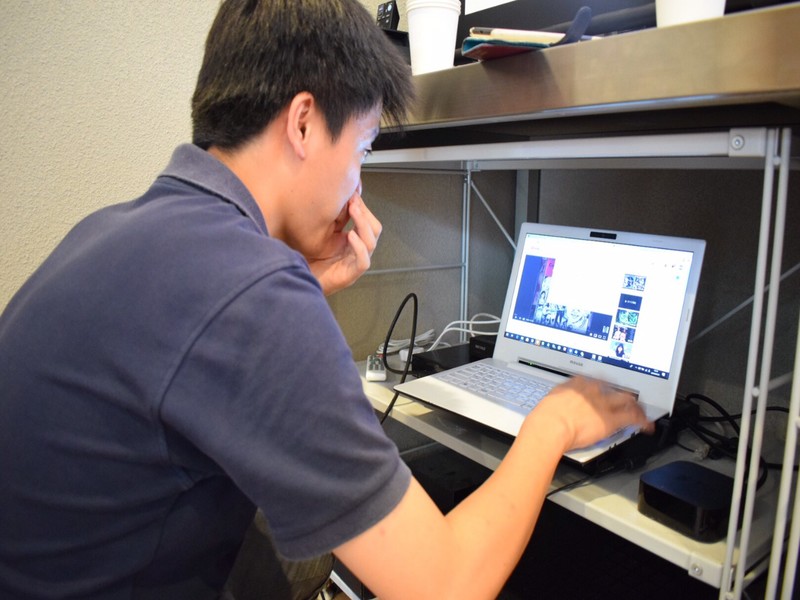 Cambodia has a short history of Pol Pot massacre (Cambodian genocide), and there are places in the country where the grief remains.
"The capital Phnom Penh a city has a proper size and it is very convenient to live there. It's also centralized.  It's also safe to travel in Phnom Penh, there are many restauants, hotels, and sightseeing spots. It is highly recommended to go there by Tuk-tuk. Of course there are still places where you can see the signs of the genocide such as Killing Field, but there are also many beautiful temples and royal palaces. It's a city with historical cityscape characteristic and energetic people who live a positive style, regardless of the past. It's a lively country, a lively city. I hope everyone can visit there some day. "
Srun said. And this is the current situation of Cambodia.
Here is the special points of Cambodia recommended by our Japanese tenant who has lived there for a year.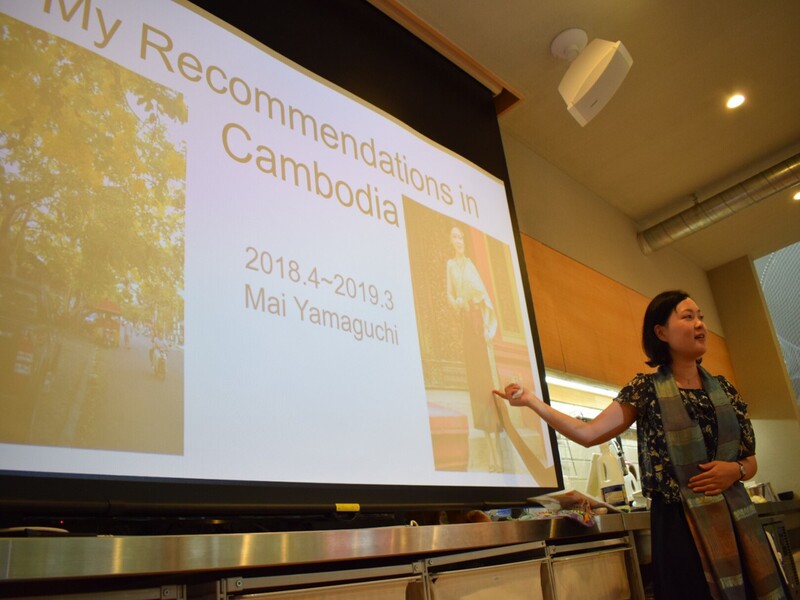 This time, there is also a Japanese resident who has worked in Cambodia for a year sharing some good things of Cambodia and her recommendations to us.
She said that Cambodians are very dexterous! Especially the handwoven silk is very beautiful.
It takes about an hour or so from Phnom Penh to silk island where you can see the amazing Cambodian handwoven silk.
Also, she was shocked by eating frogs and insects which they were considered as an important source of protein for Cambodian.
While introducing us the beautiful silk scarves and showing us photos of tranditional costumes, many beautiful memories of her stay in Cambodia came flooding back.
It was a wonderful experience for us of getting to know Cambodia from a foreigner's perspective.
Next time is Mongolia! Experiencing the nomadic ethnic culture in Shinjuku! ?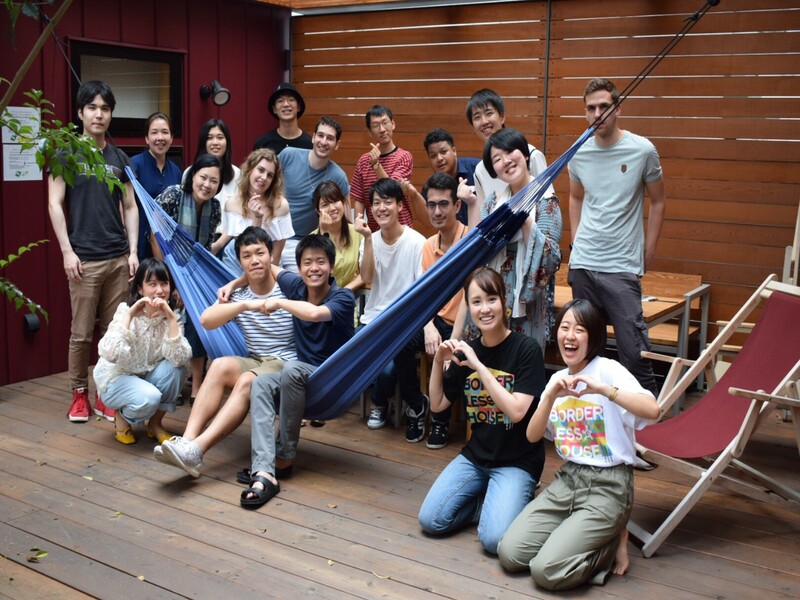 BORDERLESS DINERS~Experience international restaurants and travel around the world~』is a monthly event only for tenants at Borderless House!
The next event will be held on August 22 (Thursday) in a Mongolian restaurant in Shinjuku!
In a restaurant that reproduces the Mongolian nomadic house, you can learn about culture and enjoy the delicious cuisine with Mongolian couples in a fun way!
What kind of experience would that be?
Please look forward to our presentation next month's!