NEWS&BLOG
보더리스 하우스의 최신 뉴스, 블로그 갱신정보
Make great use of non-standard vegetables! Wagashi(Japanese sweets) making event at Kyoto Kamigamo House!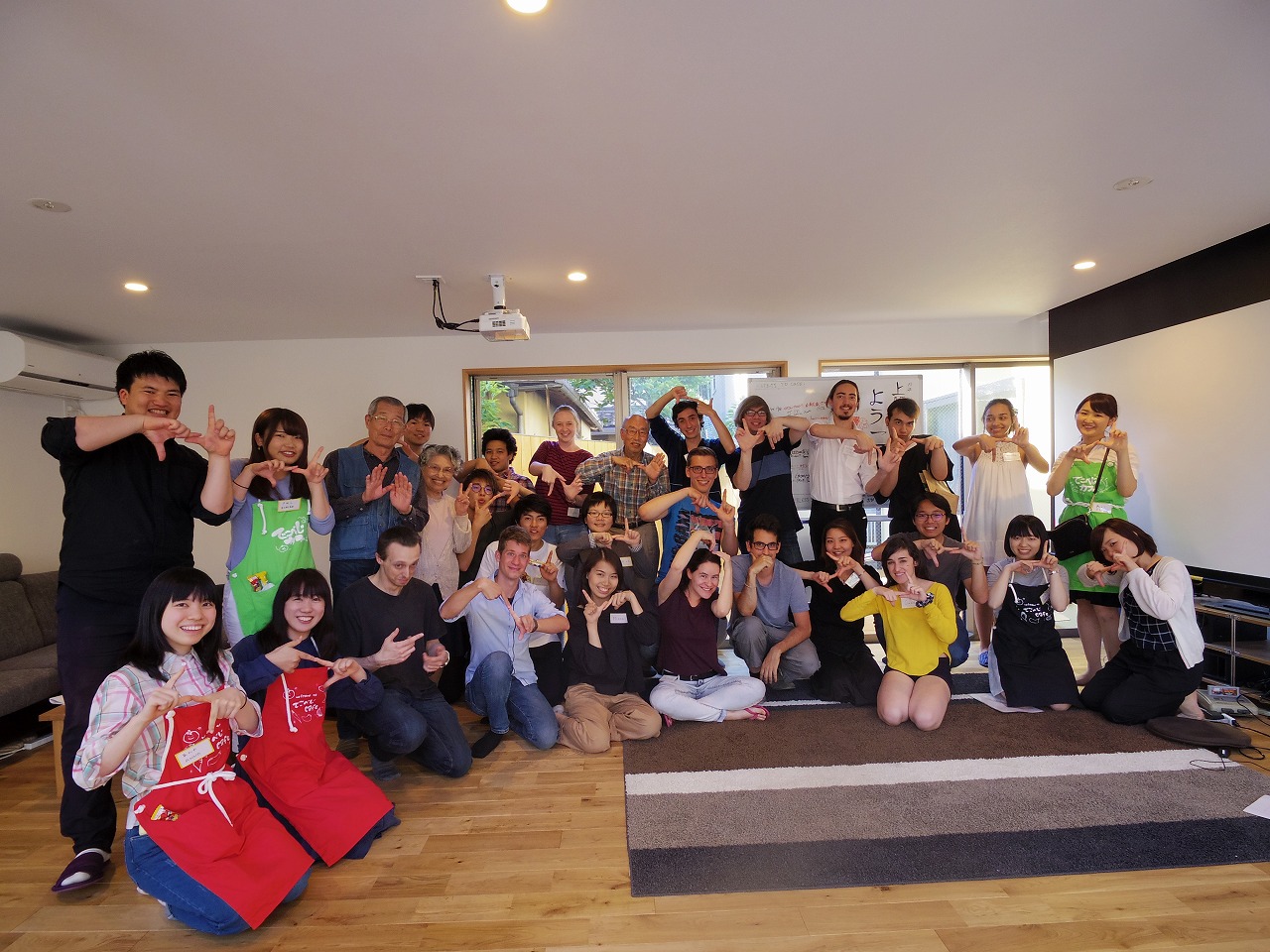 Hello, this is Suguru from Borderless House.
One month passed from
 "the Kimono dressing event" 
that ended in a great success.
"Wagashi(Japanese sweets) making " Event
 was held at Borderless House Kyoto Kamigamo on June 4th."
Thanks to the cooperation of Dekovege Cafe(でこべじカフェ) from Kyoto University, we were able to hold it.
There are some vegetables that can not be sold in shops because of its appearance such as "shape is irregular", "too big", "too small". We call the vegetables "non-standard vegetables". Dekovege Cafe(でこべじカフェ) buys the non-standard vegetables and regularly holds a cafe and cooking classes in various place.
On the day, a total of 31 people come to the event - not only tenants of Kyoto Kamigamo House, but people from other houses as well as neighbors participated.
They tried to make 
Dorayaki
 and 
Ichigo Daifuku
! *Dorayaki - pancakes stuffed with sweet bean paste
*Ichigo Daifuku - consisting of a strawberry inside 'daifuku', which is a rice cake stuffed with sweet bean paste.
(In this time, we cooked tomatoes jam instead of sweet bean paste)
I will introduce the whole Wagashi making event (including Tea party and Drawing relay competition ) with photographs!
 Kyoto Kamigamo House style!? Using nicknames makes each other close.
First of all, we worked on 3 teams; 
making Droayaki dumpling bean paste
, 
Dorayaki dough making
, and 
strawberry Daifuku team
.
It started to introduce themselves.
In order to complete the cooking, 
team work
 is necessary more than anything!
However ... It is difficult for both Japanese and foreigners to remember their names....
To solve the problem, we used Kyoto Kamigamo House style which is a way to call each other with a nickname. Although there are more than 20 people in the House, using nicknames made each other close and easy to memorize their names.
For example, there are some humorous nicknames, one of tenants is from Italy and the first name begins with "Chi" so that her nickname is "
cheese
". The other one is "
Natto Man
" because he eat natto(fermented soybeans) every day in every meals. Moreover, Flo is included in his name, so that he is called "
furo(Bath in Japanese)
" !
Calling with a nickname made each other close, soon after self-introduction, one team took self-shots!
After the self-introduction, let's cooking!
It looks ugly, but taste is good!
Start cooking with the guidance of Dekovege Cafe staff!

There are lots of vegetables that are thrown away when their shape is ugly, but the taste is good! We cooked using such vegetables in this event!
One of tenants interpreted the menu described in English to a neighbor!
Most of tenants often cook their own meals. However there are a lot of delicate works in making sweets, so that neighbors and staff of Dekovege cafe helped and taught them.
All of participants were concentrating on the explanation of the staff!
Have you successfully made the shape of Daifuku well?
Everyone in the Dorayaki dough making team!
Finally completed!
After cooking, they ate Wagashi that they made together!
"
Ichigo Daifuku that we made together is delicious.
"
"
I enjoyed making the sweets with tenants of the share house!
"
There are a lot of voices that satisfy the making of Wagashi (Japanese sweets)!
We really appreciate Dekovege Cafe that gave us kindly guidance!
Who did you make a mistake? Drawing relay competition that was a great success
At the end of the tea party, "
Team competing drawing relay contest
" was held.
The rules are simple!
Members of each team decide numbers from 1 to 8. First of all, No. 1 person can see a subject and draw the picture. Next, connect the picture to the direction No. 2, No.3...., and the last person (No.8) guess what the theme is and answer.
The subject was "
rhinoceros
"
This was the third term game and all three teams are at the top, so everyone was seriously working towards winning!
Rhinoceros(No.1)
Rhinoceros.......?(No.4)
???(No.7)
And the answer of Droayaki dumpling bean paste team is ..
""""Unicorn """
That was so funny we couldn't stop laughing!
"
Is the picture strange from this point?
"
"
Come on!~ Daniel ~ !!
"
After answering, everyone check where they were getting funny!
It is a game that everyone in the team cooperates and gets the correct answer.
While I was in charge of the moderator, I was pleased to see the situation where everyone was working hard and looked fun with team members!
Finally, it was the time to announce the result of this game!
The victorious team is...................
Dorayaki dough making team
!
Ichigo Daifuku team
 in 2nd place!
Thanks to S-san (middle photo) who was 88 years old, this team made it to the place!
As you know the funny answer, 
Droayaki dumpling bean paste team
 is 3rd place!
In this event, we learned that there are many vegetables that are discarded if the shape is ugly and non-standard. And, even if the Japanese person, it was a nice experience that made Wagashi with such vegetables!
Thank you again for the cooperation of 
Dekovege Cafe
 san!
Also, "
multi-generation and multicultural communication
" that was another purpose of this event.
I think that it was good opportunities to tell own thoughts to the other party with communication that  is not only in languages such as English and Japanese, but also through body language.
Borderless House Kyoto Kamigamo wants to 
grow with the community
 while cooperating with tenants and local residents! We are planning to held fun events for both our tenants and neighbors in the future!
For student organizations that are active for international exchange and conduct activities teaching Japanese culture,why don't you hold an event together?
Please contact us from the URL below!
http://www.borderless-house.kr/jp/kamigamo/kamigamo_partner/
In addition, there are two Borderless Houses in Kyoto "
Kyoto Kamigamo House
" and "
Kyoto Hanazono House
"!
For those who want to improve language skills, are interested in share house and international exchange, please check the house information below!
<
BORDERLESS HOUSE KYOTO HANAZONO
>
<
BORDERLESS HOUSE KYOTO KAMIGAMO
>